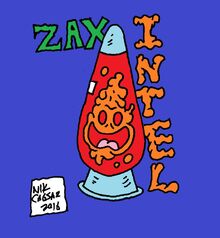 Zaxintel know as 'Zax' for short 'Eric Days' when trying to proform an elabroute ruse or 'Syad Cire' if it is opposide day. 
In 2013 Laugh Track Matt & Zax began their own prank call podcast called Party Time.
Zax attended the PLA EuroMeat in Amsterdam.
Pictures
Links
Ad blocker interference detected!
Wikia is a free-to-use site that makes money from advertising. We have a modified experience for viewers using ad blockers

Wikia is not accessible if you've made further modifications. Remove the custom ad blocker rule(s) and the page will load as expected.