Fictional History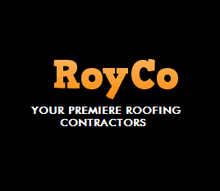 Founded in 1979 by "Big Roy", RoyCo Construction is the construction arm of
RoyCo
. Well known for its stealth modification of apartment buildings, and numerous accidental de-roofings.
Hailed "the leading expert in roofing quality", RoyCo Roofing received countless awards including the prestigious "Best Roofing Company" in 2013. It is also notable for being the only company to ever won the "holy grail" of roofing award, the "Leak Free Gaurentee" in 2003.
Now located in Roy, Washington, RoyCo Construction specializes in the import and installations of exotic roofing tiles, with supply chains reaching as far as New Zealand.
In 1999, Big Roy passed away, and the company was passed down to Little Roy, who is in charge today, with a whole team.
Employees
Chad - Employee of the year.
Little Roy - The man in charge.
Dave M. - The new guy.
Big Roy - RoyCo founder and autodidact roofer. (R.I.P.)
Contact Info

Phone: (206) 569-8632
Email: myroofsucks@roycoroofing.com
Website: http://www.roycoroofing.com/
Facebook: http://www.facebook.com/roycoroofing/
Pictures