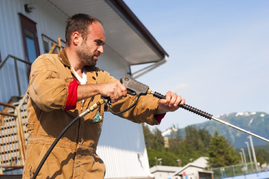 Rappy McRapperson (Joshua A. Katz, born 3 September 1982), known on the streets as 'Ghost Rappy', is a Nerdcore music performer and video producer.
He is known for several viral hits, including "Fanny Pack", and "I'm A Gangster" which has been viewed over 1,000,000 times, and "Fishsticks"; He also wrote and performed 22 songs for the popular series of children's books called Captain Underpants and wrote music and skits for the PBS educational television program Biz Kid$ in 2007.
From 2001 to 2003, Rappy hosted the "The Make Josh Famous Half-Hour of Garbage." on the Seattle Community Access Network.
In 2011, Rappy performed at Nerdapalooza, and produced 4 albums for Wing, known worldwide for her music on the cult television show South Park. He's responsible for several of her well-known tracks, including "Stop The Nonsense" and "Safe Computer"; the latter being a collaboration featuring a verse by Rappy.
Rappy made two versions of a promo song for The Phone Show. He also performed the theme tune for the Laugh Track Matt & Zaxs podcast Party Time.
Pictures
External links