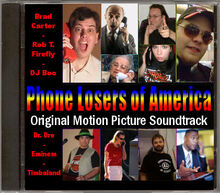 Over the past few years, a lot of music has been created in the name of the PLA. RBCP's hope is that listening to this music will inspire even more people to write songs about the PLA, so our "Original Motion Picture Soundtrack" will be more than just 7 tracks long. Because really, who's going to purchase our CD for $17.99 plus tax when there's only 7 tracks on it??
There are a few more, such as the 2 dance mixes that were done in the 1990's by Calimar and some other guy.
RBCP also released numerous Singles under the alias Redbox and the Chilipeppers.
Track Listing
01. Rob T. Firefly - Guilty Deter
02. Deaf Relay Operator - What's The Difference?
03. Trevelyn - RBCP on PLA Radio
04. RBCP - linear (feat. linear)
05. Various Professional Voice Artists - PLA Radio Cactus Intro
06. RBCP - Mildred Monday
07. Trevelyn - Blackhat Life
08. RBCP - Introduction to HOPE 2008
09. gnnr - Monday
10. RBCP - Play The Game
11. Trevelyn - Ode to PLA Forums
12. Rob T. Firefly - Bell Odyssey
13. tabachi - Grouchy Old Man
14. BrrrStickem - PLA CACTUS
15. Tristan - Phonelosers (Performed by a Fiverr.com Artist)
16. Cactus Smoke - PLA Radio Song
17. TheN - Welcome To The BotNet
18. Supersize - PLA on PCN
Links