Mildred Monday was first contacted by RBCP in 1993, from a pay phone at the Lafayette Square movie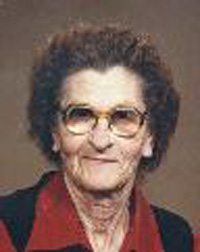 theater in Indianapolis, Indiana, where he worked. Her number was picked at random from the telephone book because RBCP found the name amusing. The call was placed using a tone dialer red box to avoid charges for the call. RBCP pretended to be with AT&T, trying to put a call through to Mildred from herself. RBCP transferred her to his "supervisor," who finished the call. The supervisor was played by a kid named Jon Spencer, who was a coworker at the movie theater.
Throughout the 1990's, RBCP and various friends continued to make phone calls to Mildred, but only averaging maybe one call per year to her. In a 1996 call, RBCP tried to confirm an appointment to put new shingles on her home. In 1997, RBCP and Colleen Card called her about the black siding for her home. The 1997 call was the last made to Mildred until around 2009 when RBCP called her to let her know that service people would be arriving in the morning to pave her front lawn with asphalt.
In 1997, RBCP wrote a parody song about Mildred, to the tune of the 80's song Manic Monday by The Bangles. In 2008, RBCP recorded the song and included it on his PLA Radio podcast. You can listen to the song here.
On February 17th, 2010, Mildred Monday died, presumably of old age, since she was about 140-years-old. Here is her memorial page on phonelosers.org. Gnnr, a listener of The Phone Show  was so moved by the news of Mildred's passing that he wrote a parody song about her in late 2010, to the tune of Yesterday by The Beatles. Listen to gnnr's song here.
Mildred Monday Extravaganza Here is a fairly complete collection of Mildred Monday prank calls and related segments from PLA Radio , The Phone Show and other tributes to the most amazing old lady we've ever irritated over the phone. You are not allowed to not watch this video.
Pictures