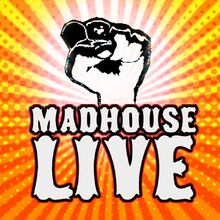 Madhouse (Madhouse Radio) is a live prank show that has existed since 2005. The host of the show is Carlito and Co-Host Milkman. It's broadcast every week, via Shoutcast, on MadHouseLive.com and blueplanetprankradio.com to an audience of over 200 listeners. It's also in podcast format for the people who are unable to listen to the live show.
Carlito's show has been on hiatus since January 2016, but it's sure to return eventually.
History
Carlito started off listening to KDK then one day he asked if anyone wanted to do a show. Carlito said yes and the rest is history. Before the legendary Milkman, he had other co-hosts; Andy and Cloned Home Grown.
In May of 2006 Madhouse Radio became the first weekly prank call related podcast featured in the iTunes store.
Hosts
Regular Callers
Characters
Cross - (Carlito)
Matt 'Fucking' Hillock - (Laugh Track Matt)
Bo Steen - (?)
Eddie Garcia - (Carlito)
Dr. Nargas - (?)
Father McDoogan - (?)
Jack Masterson - (Carlito)
Valente of Valente & Associates - (Carlito)
Ad blocker interference detected!
Wikia is a free-to-use site that makes money from advertising. We have a modified experience for viewers using ad blockers

Wikia is not accessible if you've made further modifications. Remove the custom ad blocker rule(s) and the page will load as expected.