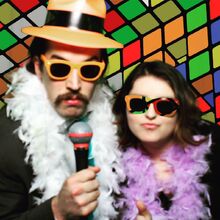 Gloria Korlou is a hockey player, prank caller and frequent caller into the Snow Plow Show. Her first voicemail was on the September 16th, 2014 show titled "Tony's Serious of Unfortunate Events." It was here she gave the idea to RBCP on calling up local pet grooming customers and tell them their animals died being groomed. Even though RBCP did not do the idea, he got quite a chuckle out of Gloria's twisted idea and she become popular here on out. She continued to leave voicemails for every show and almost every show since has either played a voicemail of hers or other listeners call in about her ideas. Gloria continues to call into the Snow Plow Show to this day, but not as frequently as she used to.
She is well known on social media. Amassing almost 11k followers with Twitter and Instagram alone, Gloria is well known in the hockey world for playing the sport and her tweets via Twitter.
Personal Life
Gloria is rather open about her life via social media. Her Twitter, Facebook, Instagram, etc. are all open to the public. She is from Rochester, New York but grew up in Hartford, Connecticut. When she began calling into the show, her voicemail's suggested she was in Connecticut in 2014. Gloria has had obvious problems with her mother, to which RBCP even pranked her on "The Jitterbug" episode on November 5th, 2014 The story of why they do not get along has yet to be known.
Gloria explains she resides in Raleigh, NC. She often references hockey in her newer voicemails, and brings up the Carolina Hurricanes quite often (her local NHL team). Her posts on social media suggest she plays hockey and is wildly popular among local fans.
Show Appearances
Gloria began with the Snow Plow Show and often explained she would not listen to any other show on the network. A few years later, however, she began joining Neon, Zax, Carlito and Beogrehl on their own personal shows, causing mayhem throughout their calls. Her calls with Neon even featured a few popular lunk alarm calls and Target calls where a man was supposedly breastfeeding a dog in the aisle. She caused mayhem throughout and became popular all thru the network and fans.
She also began drawing and went through a phase where she would draw up pictures for the show's artwork. Her artwork was even featured as the episode photo for the show It was rumored Gloria was creating a PLA poster but to this day it has yet to be created.
Her very first appearance on the Snow Plow Show can be dated back to the 2014 episode "Tony's Series of Unfortunate Events". The September 16th episode shares Gloria's first call where she tries to pursued RBCP to prank calling local grooming customers and say their pets died while being groomed.
Gloria was also the initial influencer of the "1-800-Carrot-Top" show on May 21st, 2015. Her original voicemail gave RBCP the idea of calling up phone company customers and explaining their phone numbers were to be switched due to Carrot Top wanting their numbers. This was the show that was based off of her voicemail.
On the March 3rd, 2016 episode titled "Closing Prayers", RBCP features one of Gloria's first attempts of a prank call. This call featured her successfully causing a buffet food fight and initial mayhem.
As Gloria began branching out and doing her own show, RBCP referenced it and even played the call during the May 6th, 2016 show titled "Permit Applications". He also gave a shoutout and played another one of her calls on the September 25th, 2015 show "I Ding You Are Something".
Gloria began taking a step back in early 2016. She deleted her prank calls, YouTube and there are no known ways to listen to her show. Her voicemails became less on the show and she was unheard from after 2016. RBCP poked fun at how people ditch him after awhile This was not the case as Gloria has recently returned and is back leaving voicemails at the present time.
Gloria's most memorable voicemail ideas
Calling people and saying Carrot Top wants their phone number.
Saying there's a Chupacabra loose in someone's home.
Calling PetSmart grooming customers and saying their dogs died.
Calling up coffee shops with shopping sprees for customers.
Ad blocker interference detected!
Wikia is a free-to-use site that makes money from advertising. We have a modified experience for viewers using ad blockers

Wikia is not accessible if you've made further modifications. Remove the custom ad blocker rule(s) and the page will load as expected.