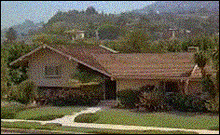 PLA Radio is back! This time in the form of semi-regular podcasts. The first official podcast is approximately 9.5 minutes long and contains several prank calls to The Brady Bunch house and their neighbors. Yes, The Brady Bunch house from the 1970's sitcom. Originally aired on Jan. 31st, 2006.
Notes
RBCP calls up the old lady to lives in the original Brady Bunch house. Also calls up a few of the neighbors and businesses in the area, pretending to be Mike Brady. Lots of cheesy Brady Bunch music abounds throughout the episode.
Credits
The Brady Bunch by Weird Al Yankovic, Time to Change by the Brady Bunch, It's a Sunshine Day by The Brady Bunch and Keep On by the Brady Bunch. We also took the "Please deposit 25 cents" clip from the This is a Recording website.
Video
Links