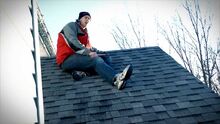 RBCP often blames work-related mishaps on his co-worker Chad, who is always goofing off and always fucking everything up. Chad is a jokester and never takes his minimum wage job very seriously.
Name origin
The name Chad didn't originate from anywhere, as far as RBCP can remember. He started using the name Chad for a co-worker during night-time shows probably in 2014 or 2015. The name was probably chosen at random. After using the name a few times, he stuck with it, even though it's a boring name and something like Steve would sound much cooler.
Update!
We are proud to announce that Chad has once again won Employee of the year at RoyCo Construction! With his dedication, you can guarantee that your new roof WILL NOT leak. Congratulations, Chad!
Quotes
See also
Ad blocker interference detected!
Wikia is a free-to-use site that makes money from advertising. We have a modified experience for viewers using ad blockers

Wikia is not accessible if you've made further modifications. Remove the custom ad blocker rule(s) and the page will load as expected.