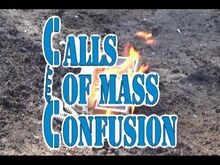 Calls of Mass Confusion is a video-based prank call show, conceived by Jiad in 2015. It features phone calls by various prank callers in the community, but the twist is that Jiad and his crew film the results of the prank call with hidden cameras. Pranks take place in public areas, such as shopping malls, convenience stores, on people's lawns, and wherever else Jiads crew can get away with filming.
In October 2016 Jiad and his cameramen were arrested when recording a Calls of mass confusion prank, Jiad spent 5 days in jail, was raped twice and he also joined a racist backstreet gang. This has caused further recordings to be stopped.
On The Snow Plow Show October 7th, 2016 Jiad said calls of mass confusion would be returning after some time has passed and is only currently on hiatus as they have enough content recording to make 20 episodes.
Calls featuring Laugh Track matt have been recorded but are yet to be released.
Cameras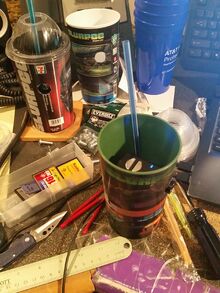 The primary cameras used by Jiad and his crew are Mobius cameras hidden stealthily inside of Slurpee cups. They hold the cups in their hands while they walk around, pointing them in the direction of whatever prank call action is taking place.
Other cameras used during the pranks have included spy cam glasses, which are thick framed glasses with built in cameras that require the wearer's head to remain very still. Jiad has also recorded with his cell phone camera, and a small Mobius camera in his hand. He also runs a digital audio recorder during the pranks, to capture audio that the cameras might miss.
The Intro
The Calls of Mass Confusion theme song was composed by Bonecage. The phones were purchased and destroyed on camera by Jiad. The gun shooting the phones is a Nerf Water Glock 600.
Episodes
Episode #1: Ready, Set, Go Stupid! - This episode was released on October 30th, 2015. In includes customers in convenience stores being tricked into thinking they won a shopping spree, resulting in them running around the store and grabbing items off of shelves. It's approximately 30 minutes long.
Episode #2: Pranksgiving Holiday Special - This episode was released on January 29th, 2016. Calls are made by various hosts from the Prank Call Nation network. This episode is 55 minutes long.
Episode #3: Yard Sale Derail - This episode was released on April 23rd, 2016. It features calls to people having yard sales, who are filmed as they are told that they're being asshole neighbors for having a yard sale at the same time as the guy down the street.
Episode #4
Episode #5
Episode #6
Episode #7
Episode #8
Episode #9
Episode #10
Episode #11
Episode #12
Episode #13
Episode #14
Episode #15
Episode #16
Episode #17
Episode #18
Episode #19
Episode #20
External Links