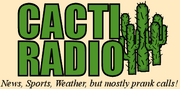 Cacti Radio was an internet radio station that mostly broadcast prank phone calls. The station was active from 2010 to 2012. It was known for being the home of
The Phone Show
and
Madhouse Live
, but also featured other weekly live shows, such as
The Fun Show
and
The Prank Show
. When live shows weren't happening, the station played old prank calls and prank shows 24 hours a day. It also played a few comedy podcasts and music in between everything.
By 2011, Cacti Radio was also broadcasting it's shows on Ustream, which allowed video as well as audio.
Shows
Ad blocker interference detected!
Wikia is a free-to-use site that makes money from advertising. We have a modified experience for viewers using ad blockers

Wikia is not accessible if you've made further modifications. Remove the custom ad blocker rule(s) and the page will load as expected.