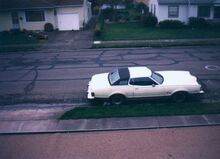 So you're here to learn a little about Albany, Oregon's scariest human being? Well you've come to the right place. This page is packed full of pictures, sounds and stories of Albany's #1 citizen, Larry Davis. Next to Albany's Gary the Retard, Larry is the most famous person living in Albany. The difference is that Larry doesn't realize it.
Big Larry is a rather long story so prepare yourselves. Big Larry is the type of person that Dino Allsman will someday become. He's about 6′ tall, has white hair that rarely combed, a big white handlebar mustache, smells really bad and of course, he's a big-time alcoholic. He's also a carpenter and takes pride in his power tools. A few years ago he hurt himself on the job so he claims to be "disabled" so that he gets a huge disability check in the mail at the beginning of every month and spends most of it on beer.
RBCP & Colleen met Larry in Albany, Oregon when he moved into their house. (It was a large house where many rooms were rented out.) RBCP & Colleen never liked him to begin with because he kept eating all of their food and didn't have a job. At the beginning of each month, he got his disability check and was drunk until about the middle of the month. Then he slept in his room for a couple of days to sober up. The last part of his month was spent playing with power tools and building things in his room. Eventually, he remodeled the entire basement of the house and it looked really great. Kinda made RBCP wonder why he was getting a disability check in the mail every month. He could be making twice as much doing this.